Oh, wow, I totally put off updating about this convention. My bad!
Let's see, I guess I will just go day by day and highlight stuff, I suppose!
First off, though, I got my lovely business cards, at last, and handed out many of them at the convention!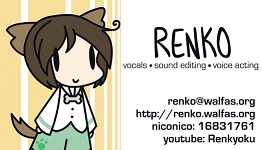 Day 1
I arrived at the airport and a friend, Canon, took me over to the convention center. That really saved my life. I had to check in for the hotel, karaoke contest, and also sort of helped out at the NOSBOAT artist alley table. Somehow I hurt my shoulder (it became tense and sore). It's still kind of hurting now, actually! I also saw kurot and Kata on this day.
In the afternoon, I competed in the karaoke contest. I sang "Just Be Friends" for the preliminaries and "Final Distance" for the finals. I was very nervous. This year's prize was also really amazing.
Some of my friends stopped by to cheer me on, as well as some fellow contestants I had already befriended in the past, so I was very happy. Thank you Brad, Emily C., Canon, Kathryn, and the many others that I always talk to be rarely get a hold of, haha.
In any case, the result was that I placed 1st and won a Black Wii bundle. That was pretty insane. I didn't expect to win at all. I feel a little bad since I won at Fanime 2008 and also Anime Expo 2008, but I can't help but feel like trying it out at Fanime each year. It's a lot of fun. Everyone was very competitive this year. Emily C. did some really impressive Macross F songs, too! I don't think I can do little dances and motions like she can and sing so well.
I had to rush back to my hotel room with the Wii because I was afraid someone would try to rob me, haha.
Day 2
This day I cosplayed Kirisame Marisa, which is an outfit I regularly bring to conventions. I helped out again at the NOSBOAT table along with my Shanghai doll and also helped out kurot. Both tables were crazy-busy!
That day I had to get ready for the Masquerade Pre-Show since I won karaoke contest. My voice was wearing out and I could not hear myself on the monitor speakers, so I ended up wearing myself out even more than usual. I apologize to everyone that I was not performing at my best, but nevertheless, I enjoyed every moment of it! I hope that people who went to see it at least could feel what I was trying to express to them by the songs.
I was very surprised during "Final Distance", because the lights went off in the audience and everyone started waving their cell phones! There were more than two years ago when I did "Candy Boy".. maybe because it is the right ambience for that, haha. I was getting a little dizzy from seeing so many sparkling lights. I think I also saw some DS screens! That was cute.
The rest of the day was just me feeling really tired. I still hung around the NOSBOAT table, as well as kurot's. I saw centimetre and Chiyo, too.
That night I stayed up until 6:00am or so hand sewing the charms onto the pants of my Fujiwara no Mokou cosplay. My fingers were going numb!
Day 3
Oh, man, what happened on this day? Oh yeah, the massive Touhou gathering. I was late to it because I was styling my Mokou wig and trying to get everything on and looking good. Thanks a ton to Brad for helping me out with that, too. Doing a hime cut on a wig is tough when the wig head is slightly slanted… at least I finished it! I think it turned out well.
I arrived and wow, it was a massive group! I missed a lot, but at the same time, I didn't? I also attended the Touhou panel for fun since my friends were going. Silly Bearded Kaguya.
I returned to the artist alley to help NOSBOAT and kurot again (thanks for giving me some snacks and drinks, by the way!), I think. I also finally got to see boxkat.
Day 4
I wore my Fujiwara no Mokou cosplay on this day again to match Miluda's Kaguya cosplay. I was very happy to be able to finally match her Eientei cosplay because I had always wore the Marisa cosplay… though I do have a Kazami Yuuka and Usami Renko one, but I don't wear them often.
While running about artist alley doing the usual helping-out work, Chiyo gave me a signed postcard-sized print of Fang and Vanille, wahhh. It was her present to me for winning the karaoke contest. She's so cute, haha.. her art is amazing!
Then Bearded Kaguya helped Miluda and I take last-minute photos with our Mokou and Kaguya cosplays on before I had to change and get going to the airport.
My flight was delayed by an hour, I think, but it all worked out! This Fanime passed really quickly before I realized it was Fanime, so it's kind of weird,  but it was still a lot of fun.
I look forward to Anime Expo 2010!